Revolutions from a beer mat
Amsterdam is blessed with a great number of bars and cafés. Some of them were – and are – meeting points for the intellectual and artistic elite of the city. These places were the ground zero or sources of inspiration for new novels, plays, art movements and even political parties. Historical Amsterdam Tours made a selection of the top 5 Artistic bars and cafes in Amsterdam.
1: Eik en Linde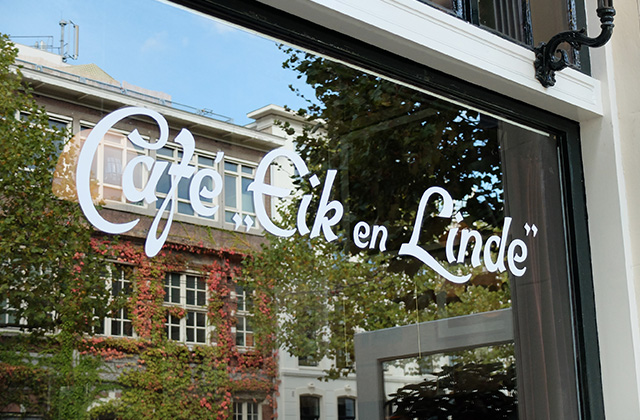 A centuries old bar in the middle of the Plantage neighbourhood, one of the most spacious, green and less hectic parts of the centre of Amsterdam. This bar is peaceful and relaxed during the day, but when evening falls it tends to get pretty crowded. There's hardly a bar in Amsterdam that has such an even mix of locals and tourists.
The bar is a popular meeting spot for writers, poets and chess players. In the 80's and 90's a famous literary radio show was recorded in front of a live audience in the bars' performance room. This room, located on the floor above the bar, is still often used for small concerts, poetry events and book presentations.
2: Cafe De Zwart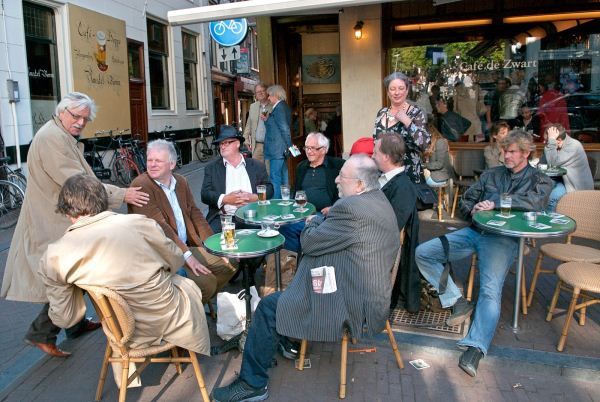 For years Café de Zwart has been an important meeting point for writers and journalists for many. Many publishing deals have been made here and it is a place where you can often see writers, politicians and journalists talk to each other while drinking alarming quantities of beer. De Zwart is located at Spui square, which is the intellectual centre of the city.
3: Alto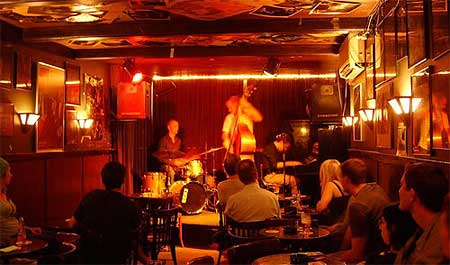 Being in Alto while a good jazz band is playing, one can get the impression to have ended up in a classic movie scene. Although the atmosphere is usually anything but noir, going from cozy to downright exuberant, as the night progresses and the band gets into its groove. At this hour you shouldn't be surprised to see people dancing on tables. 
Alto has live music till the early hours, seven days a week. For a relaxed, tranquil jazzy atmosphere visit the bar on Mondays or Tuesdays, on Wednesdays and Thursdays the music is wilder and the bar often packed. Check out acts such as Hans Dulfer, or Greenfield, for breathtaking live music.
4: Cafe De Duivel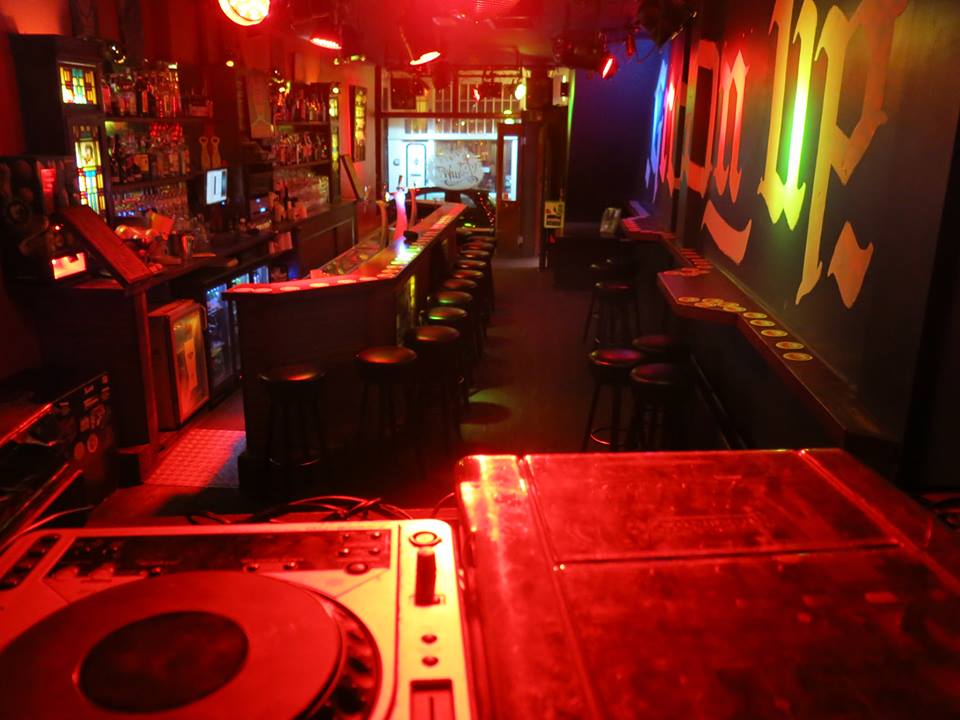 Just like Alto, this bar is open seven days a week till much late (3 or 4 am). But you'll encounter quite a different crowd here, for De Duivel is Amsterdam's hip hop hot spot. The bar has been an important centre for the hiphop community of Amsterdam since 1992. Many famous rappers and dj's from all over the world have frequented café de Duivel. You can enjoy live dj's and hiphop showcases here every day and an annual massive block party on Kingsday.
5: De Smoeshaan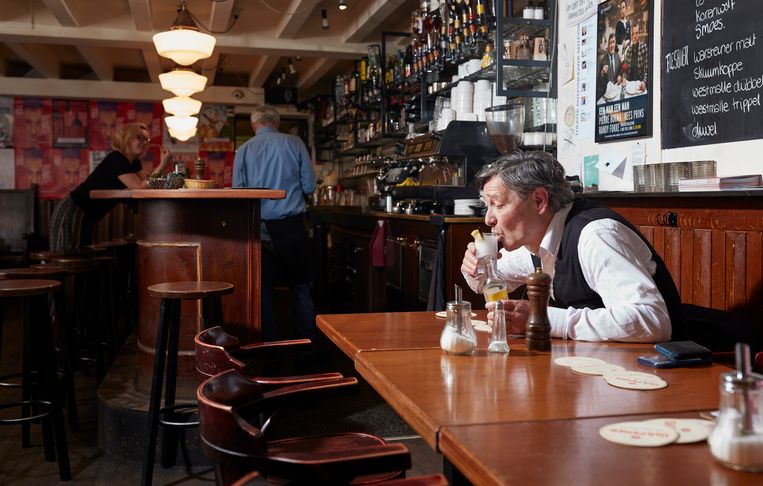 Leidseplein is the Dutch West End, here's you'll find the most important theatrical productions, from Shakespeare to hyper modern dance performances. The massive Stadsschouwburg, which is the most prominent building on the square, is the national theatre of the Netherlands. And there are numerous other theatres in its vicinity. Because of this there are several bars, located between the theatres, that have always been an important meeting place for actors, playwrights and directors.
Most famous of these meeting spots is café de Smoeshaan, which is located on the Nassaukade, behind hotel Americain. De Smoeshaan is a cozy bar with a decent kitchen and an outside terrace.
Honourable mentions:
De Ysbreeker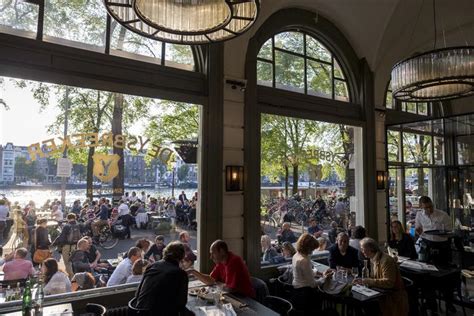 The name – icebreaker – suggests a lame pick up bar, the interior looks modern, but make no mistake. De Ysbreeker holds a long legacy as a regular meeting point for socialists, Labour party officials and other left-wing politicians. A 'red' cafe, so to speak.
A couple of years ago the illustrious Ronald Hooft has modernised the interior completely. From the outside however the bar/restaurant still looks like a 19th century wedding cake. We recommend the west oriented terrace for its long hours of sun on the riverside.
Cafe Eylders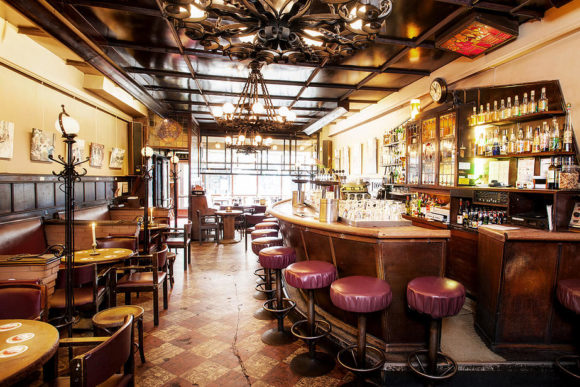 Just off the Leidseplein this time-stood-still cafe is the centre of contemporary artists. Ever since the very opening in 1940 when it served as clandestine hangout for the resistance movement, it still is a popular meeting place for subversive creativity. The place serves as an art gallery as well. Check out their temporary exhibitions of local artists.