The days are shortening during the last months of the year. A good moment to explore Amsterdam by night. How wonderful the city can be in the dark we show in this top five of great night locations and activities in Amsterdam:
1: Candlelight cruise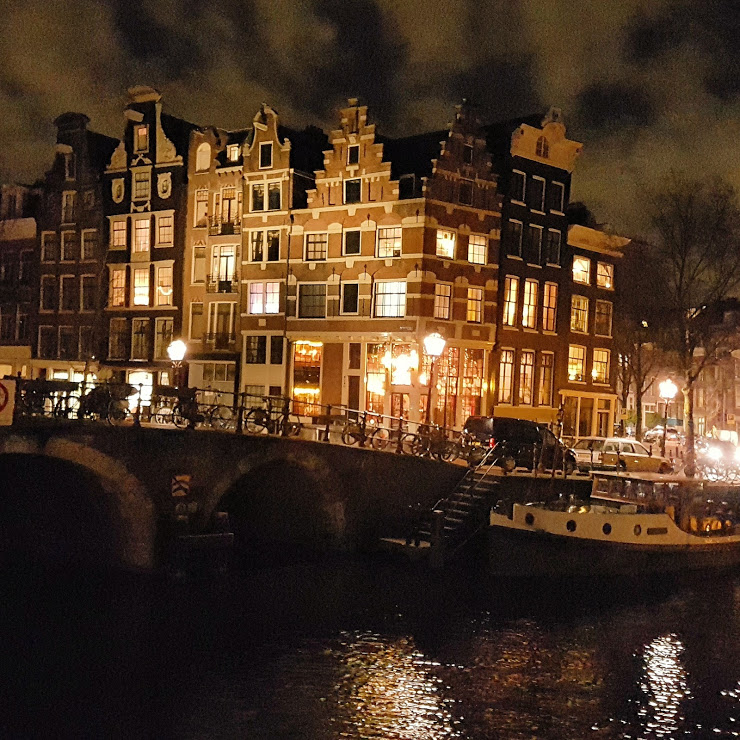 A classic. Amsterdam was made for boat transport. Book a 2 hours boat cruise Including a good glass of wine and Dutch cheese aboard. Have a spectacular view on the illuminated arches of the many bridges. One of the highlights is the view from the Herengracht into the Reguliersgracht – try to pronounce that without spitting – where the arches of seven bridges form a tunnel of light. A relaxed way to enjoy Amsterdam by night.
Several cruise companies in front of the Central Station offer this tour.
2, Amsterdam Light Festival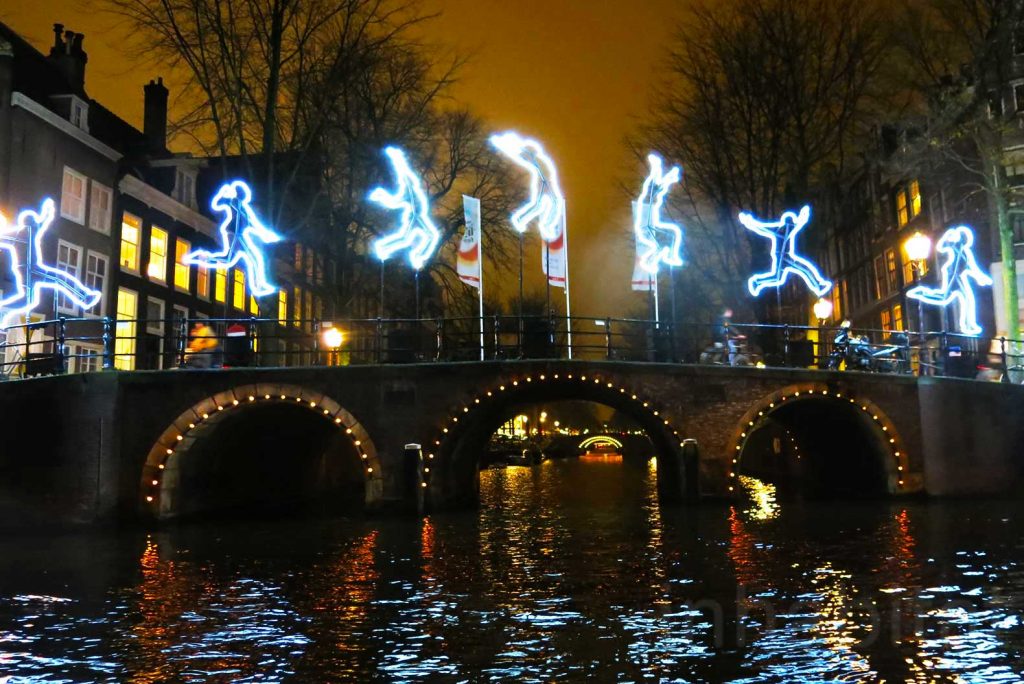 3, Candlelight concert in the Portuguese synagogue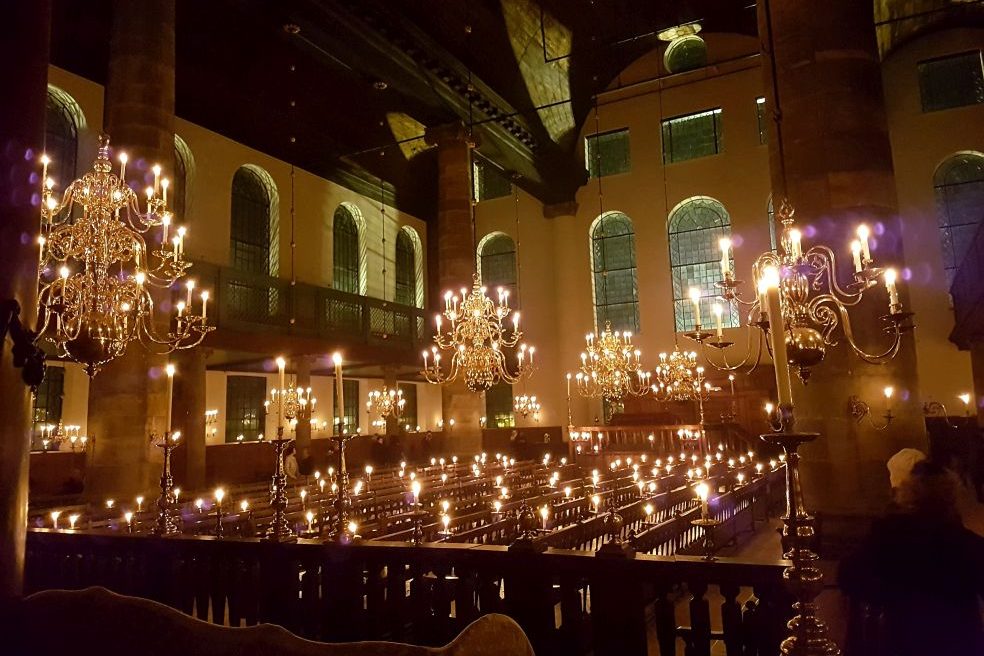 This is a hidden gem. The 350 years old Portuguese synagogue does not have electricity nor central heating. After sundown over a thousand candles light and heat up the gigantic Jewish temple, one of the largest in the world. This creates a magic and romantic atmosphere. Every month the candles are lit for a intimate concert, organized by the Sephardic congregation.
Classical, Klezmer or traditional folk, check the agenda for concert dates.
4, Under the Rijksmuseum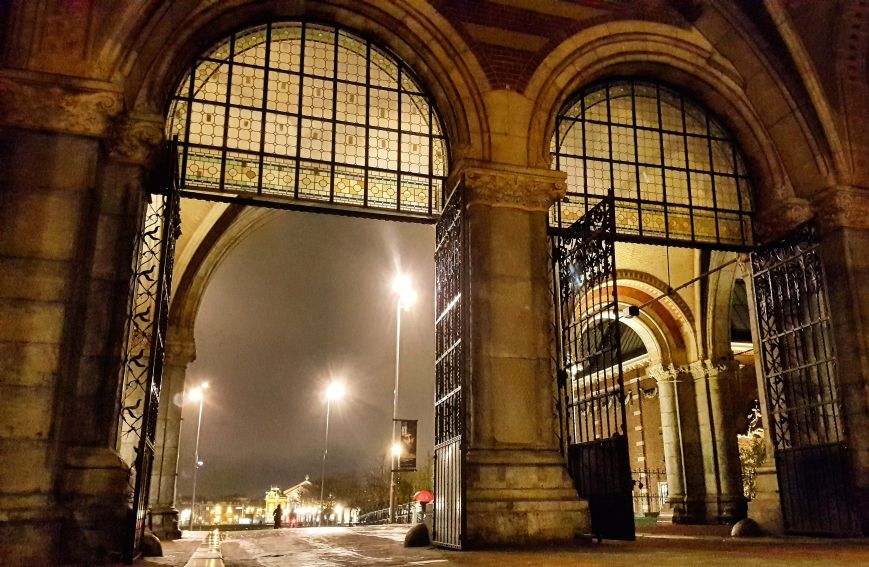 It's a short walkthrough. Nevertheless this domed passage under one of the world's largest art museums is worth a detour. Often street artists make use of the fantastic acoustics. In the evening hours though they tend to go a bit further than to keep repeating Ferdi's Four Seasons. On the Museumplein side the small ice skating rink totally adds up to this pleasant winter feel of Amsterdam by night.
5, 'T Blauwe Theehuis in the Vondelpark
What can possibly be more romantic than a nightly walk in the park? Well, let us give it a shot. Hidden in the middle of the Vondelpark hides a true gem: the Blauwe Theehuis. Since last summer the name Blue Teahouse does not really cover this 1930 blue-white flying saucer looking building so well anymore. It's been taken over by local crafts brewery Brouwerij 't IJ.
Hounorable mentions
Zeedijk
Once a nitty gritty street full of junkies, knife pullers and drugs dealers, the Zeedijk has made an impressive comeback. This more than seven centuries old street meanders from the Central Station towards the Nieuwmarkt. Halfway it evolves into Chinatown while in fact the whole street is a showcase of international cuisine: Portuguese, Malaysian, Indonesian, Vietnamese, Brazilian, Argentinian, Italian, Thai. Eet smakelijk!
Terrace De Plantage
Maybe more a place for balmy summer evenings: The Terrace behind Restaurant De Plantage, itself already a beautiful location. But outside, on the side of Artis, the Zoo, this is a true place of romance after sundown. Dutch restaurants are known for their 'laidback' service, so feel free to just sit back and enjoy the sound of birds, monkeys, zebras under a canopy light strings and leafs.