Recent discoveries raise an old question
Very recently archeologists made a great discovery: The most Northern traces of a Roman settlement on the European firm land. This discovery raises an old question: Were there ever Romans in Amsterdam?
In 2018, about 20 kilometres North West of Amsterdam near the town of Krommenie, they revealed the remains of a Roman Watchtower. The wooden remains of this pentagonal structure was carbon dated to the 1st century A.D. This is however not the first discovery North of the Northernmost Roman border, the so-called Limes – roughly the old tracé of the river Rhine.
Were there ever Romans in Amsterdam?
The northern border of the Roman empire was for a long time marked by the river Rhine. In the current day Netherlands the flow of the Rhine runs a lot more South than in Roman days. The cities of Maastricht, Nijmegen and Utrecht arose around the northernmost borders – called 'Limes'.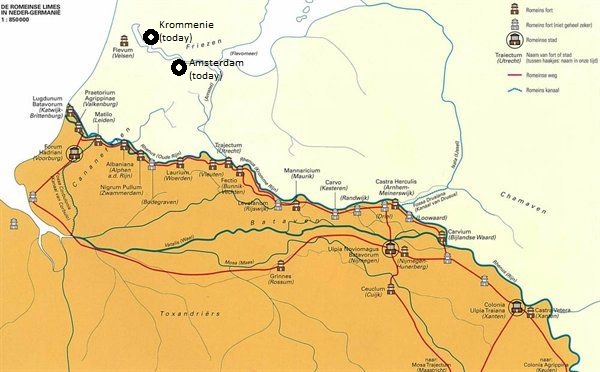 Current day Amsterdam is located right between these Roman 'limes' and the newly discovered Roman stronghold. In the previous blog in this series we've seen that there's no evidence of inhabitants yet in the first 1000 years after Christ. That doesn't mean that no one passed the Amstel river and IJ, towards this outpost. Romans may have used these waterways to recruit more soldiers. A typical habit in the border regions.
Traces of Romans in Amsterdam
In the 1970s – while digging for Amsterdam's first metro line – imperial coins saw the light in the metro trace. Coins dating back from the first three centuries A.D. depicting emperor Vespasianus and emperor Justinianus. By far not enough to claim that Amsterdam was a Roman settlement. It is however likely to think the Romans made expeditions in this area by boat. The terrain was too boggy to pass.
So, Romans in Amsterdam? At best the Roman troops may have used the waterways north of the Limes to gather intelligence and to recruit soldiers for the Roman army. Around the 4th century the Roman Empire slowly lost its grip in the current Netherlands. The legacy the Romans left behind is not as impressive as in other regions. Perhaps because of the hostile terrain and the scarce population.
Together with the recent discoveries new research will have to point out how Roman this region actually was. For now several pre-historical findings can also be seen at the entrance of the Rokin metro station.