Private City Walk Amsterdam
Best introduction to Amsterdam
Private City Walk Amsterdam
We start in front of the Amsterdam Central Station, at the I amsterdam Visitor Centre

2 hours | -/+ 3 km of walking (1.4 ml)

- Royal Palace
- Canal Ring
- Dam square
- Begijnhof
- Red Light District

Available from €43,75 p.p.
We start in front of the Amsterdam Central Station, at the I amsterdam Visitor Centre

2 hours | -/+ 3 km of walking (1.4 ml)

- Royal Palace
- Canal Ring
- Begijnhof
- Dam square
- Red Light Distric
Private City Walk in Amsterdam 
Are you new to the city? We offer you an unmissable private guided tour of Amsterdam. Become acquainted with this famous city, with a local as your personal guide. Get to see the most beautiful, cozy and quirky places in the historical city center. What is this city made of? Why is this city so unique and inspiring? We'll make sure you'll find out.
What is the spirit of Amsterdam?
Who is Amsterdam? With our guides you'll get a better understanding of Amsterdam's tolerance and pragmatism, its famously relaxed way of life. You'll walk in the footsteps of Rembrandt and you'll get a surprising take on the red light district. In two hours your personal historian will take you through the ages and back.
The Physics of Amsterdam

Your private guide will explain the unique way that Amsterdam is built. You won't find another city with as many canals and bridges. How did this unique layout come into existence? Why do many houses lean forward? What was the function of the canals anyway? Is Amsterdam in imminent danger of flooding due to rising sea levels? So many question to ask about this city. We'll have the answers for you.
Practical hints
As a local, we'll gladly inform you about the do's and dont's in Amsterdam. Places to go and places to avoid, where to eat and drink, and our insider's cultural tips. How to use public transport? How to navigate smartly? We gladly offer tailored recommendations for further exploring, in and outside of Amsterdam.
A fun introduction to Amsterdam
We combine a fun walk and fascinating anecdotes with a truckload of information on Amsterdam. With the storytellers of Historical Amsterdam Tours you'll have a great first impression of our wonderful city.
Tijs was amazing. His knowledge is outstanding and the tour was fun, interesting and informative. We would definitely recommend him to anyone needing a tour guide in Amsterdam. He tailor... read more made the itinerary to our interests and it was an even more enjoyable than I...More

Merle K


8/30/2019

Exploring the canals of Amsterdam on foot with Tijs as the tour guide was one of the highlights of my first visit to the city. Tijs not only has thorough... read more knowledge of the city's history and architecture (spanning both ancient and modern times, e.g. "The...More

EC8531


3/22/2018

Edgar was our tour guide and met us at Centraal Station. We were guided around the city for the next two hours and it was delivered in perfect English. You... read more can tell Edgar is very passionate and knowledgeable about history and art, and loves living...More

Peter B


7/11/2018

This walking tour gave an insight about Amsterdam during the dark period of 1940 and 1945. The 2 hour tour started at the Anne Frank House and ended at... read more the Jewish cultural quarter in the Plantage. Tijs spoke about the harrowing times that led up to the second world war, the daily struggels of the jewish citizens of Amsterdam, their persecution and their massacre in various death camps in Poland. We also learnt about how ordinary Amsterdammers tried to resist the nazi occupation of the city and how they tried to save lives. The tour itself leads through the most beautiful parts of Amsterdam and I highly recommend it to everyone who has not much time to spend in Amsterdam. You will not only visit stunning parts of the city but you will also learn more about the important topic of the Holocaust. At times, I felt emotional during this tour but it was one of those tours that I will remember for a long time. I absolutely recommend.

IldikoF8


3/08/2020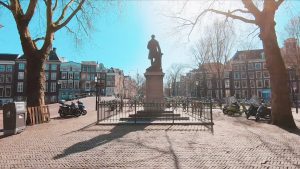 Professional photographers and filmmakers saw a unique opportunity: to capture the capital during its most quiet times in history. Videos of quiet Amsterdam.
Read More »